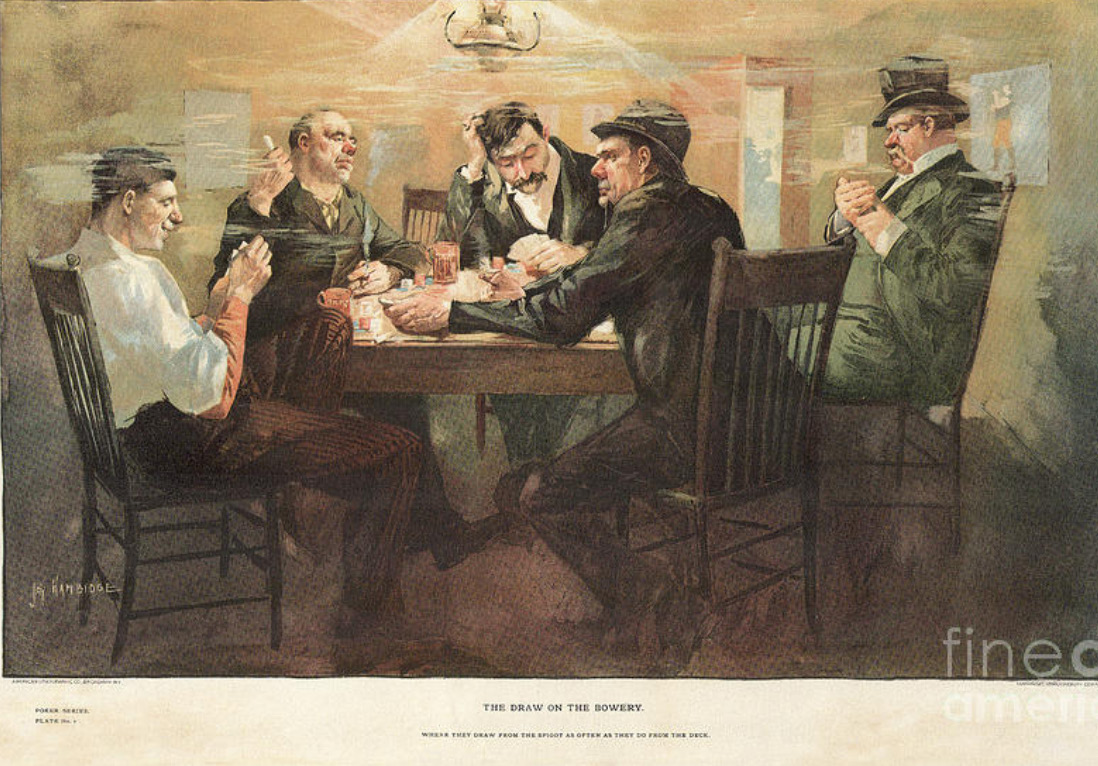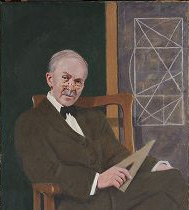 Edward John (Jay) Hambidge (1867–1924) was a Canadian born American artist, writer, and mathematician.
He is best known for his chef-d'oeuvre The Elements of Dynamic Symmetry: a book published 2 years after his death (in 1926). The book is based on a series of arithmetical studies and geometrical designs.
The ideas that Hambidge collected in his book -which had been strongly influenced by the proportions and symmetries used in Greek architecture and sculpture- created a great deal of discussion by some, and proselytism by others.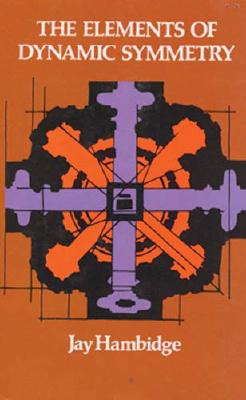 Compared to other artists who preceded him, Hambidge embodies, with no doubts, an exception.
In his The Elements of Dynamic Symmetry Hambidge wrote that he "could not entirely agree with the modern tendency to regard design as purely instinctual."
His complete dedication to this research, in fact, will help and simplify the work of later artists until today. Although, today he remains an obscure American Illustrator and scholar who should be studied and recalled for his great effort in re-establish standard canons of aesthetics and beauty in his research and his visual works as well.
Biography of Jay Hambidge
During his early artistic life, Hambidge attended the Art Students' League, an independent art school in New York. Also, he was a pupil of the American painter William Merritt Chase, known as an exponent of Impressionism, who founded the Chase School (which later would become Parsons The New School for Design.)
In 1897 he was hired by Life Magazine -along with his friend Peter McArthur- to write and illustrate a series on humor and mathematics. Their research led them to a potential rediscovery of a lost natural law of proportion in art and design. Within 5 years, Jay and Peter disagreed, parting ways. (Brewer)
In the early 1900s, Hambidge spent a lot of time in studying classical art and traveling to Greece. In 1918-1919 he also conducted a research on the measurement of the human figure at the Harvard Medical School. He linked human figure and plant growth to the classical Greek design, focusing on classical buildings such as the Parthenon, the temple of Apollo at Bassæ, of Zeus at Olympia and Athenæ at Ægina.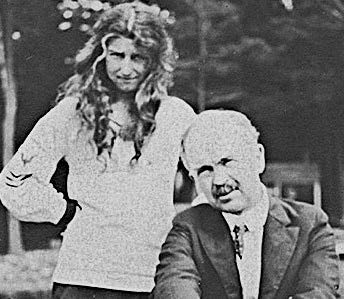 His ideas on design and the travels to Greece made a deep, lasting impact on Mary (Crovatt) Hambidge: an actress, model, and singer who accompanied him in his journey and who took his last name although they never married. Before he met Mary Crovatt, though, he was married to Cordella DeLorme Hambidge. He abandoned his wife and 4 children in 1914. (Brewer)
Jay Hambidge's studies and research led him to develop a theory of proportion which is illustrated in his 1920s and 1926s books: The Greek Vase and The Elements of Dynamic Symmetry.
His collected writings, which include a number of his geometric renderings, were published posthumously by Yale University Press and later mass-produced by Dover. (Smith)

Ten years after Jay Hambidge's unexpected death in 1924, his partner Mary would apply what she learned –that creativity can best be nurtured through working closely with nature– by establishing the Hambidge retreat (which is still active) and a sustainable farm. (The Hambidge Center)
How Hambidge's ideas influenced art and design
Even though Hambidge's ideas were not new, he tried to establish a scientific basis for the concept of harmony that had different metaphysical interpretations during the history. An English critic, in fact, says that Hambidge did not try to formulate a new theory, but he just recovered a lost technique. (Smith) What he dealt with, in fact, is the so-called golden section. He explored again what the great Greek philosopher Pythagoras (V Century BC), the "Father of Geometry" Euclid of Alexandria (IV Century BC), the Italian mathematician Luca Pacioli and the great Leonardo da Vinci (XVI Century), the Italian mathematician Fibonacci (XIII Century), and the German philosopher Kant (XVIII Century) already studied. (Rotondo)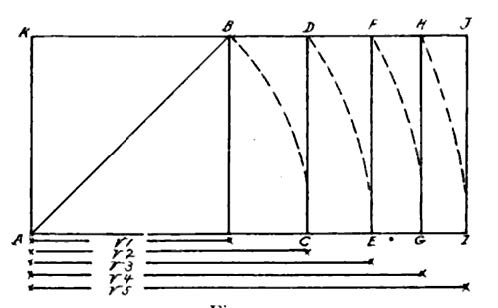 What Hambidge tried to do in his The Elements of Dynamic Symmetry was launching a new philosophical dimension for artists of his era. Many years before Le Corbusier wrote about his more famous Modulor, Hambidge developed a clear theory about the relationships of order and proportion in art and design with the human figure itself. (McWhinnie) His system, which uses dynamic rectangles, is based not only on the golden ratio but also on the silver ratio, obtaining a generalization of the well known Fibonacci sequence. Hambidge chooses 118 and 191 as the beginning numbers of his sequence.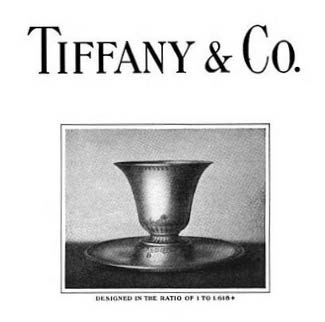 A number of notable artists spreading from the XX to the XXI Century have been influenced by Hambidge's dynamic symmetry in their paintings. Some of them are George Bellows, Maxfield Parrish, Al Nestler, the New Yorker cartoonist Helen Hokinson, and Clay Wagstaff.
Not only visual artists but also companies such as Tiffany and Co. and Chrysler Corporation based a collection of jewelry and the design of a line of automobiles to Hambidge theory. The Hambidge system is employed today at the design department of Ohio State University and by Professor Lee Payne in the industrial design program at Georgia Tech in Atlanta. (H. J.McWhinnie)
Works of visual art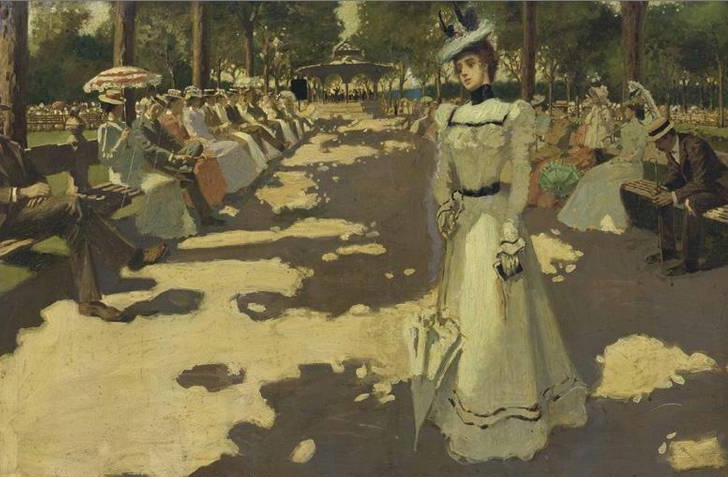 Although it is difficult to find most of his visual works, their subtlety, compositional care, and their historiographical value are noteworthy. The production of Hambidge, according to the pieces found on the internet, is composed primarily of oil paintings, watercolors, and inks.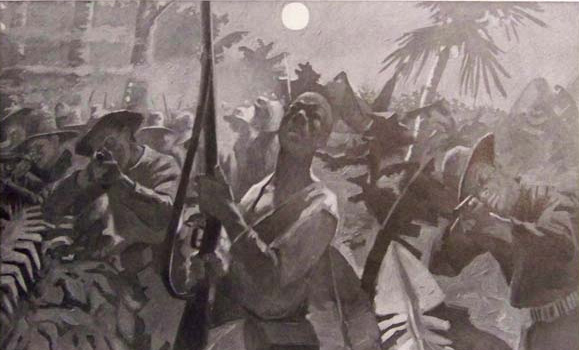 The main topics covered in its production can be divided into the following categories: social issues, war scenes, historical events and new artistic trends that anticipate the themes of French Impressionism.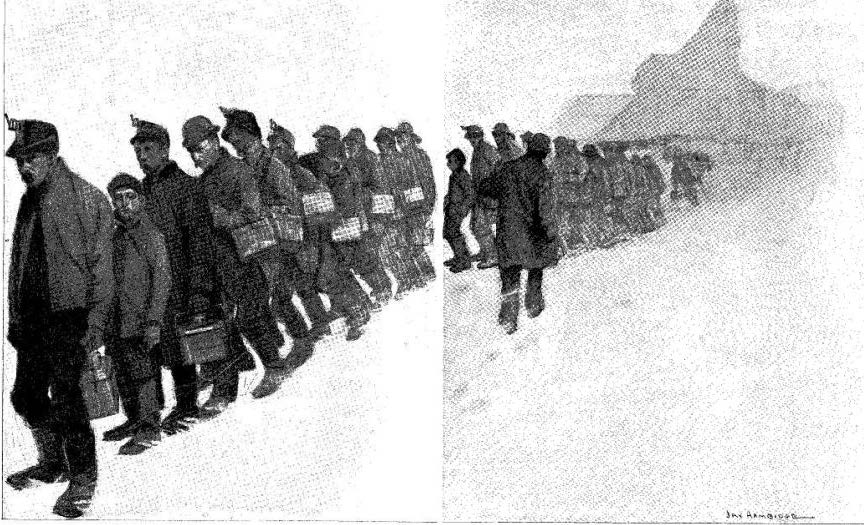 From 1894 to 1913 (Brewer) Hambidge worked closely with the magazine The Century based in New York City as a freelance artist. This is testified by the works The Pay Line and McTamany jumped in front of the locomotive. The first one, dated 1989, is a black and white illustration that captures an endless line of potential immigrants. In this image, it is interesting to note the use of atmospheric perspective. Also, in terms of composition, it is easily observable that the image is based on the golden rectangle: the only man walking in the opposite direction back to the lineup is the focal point.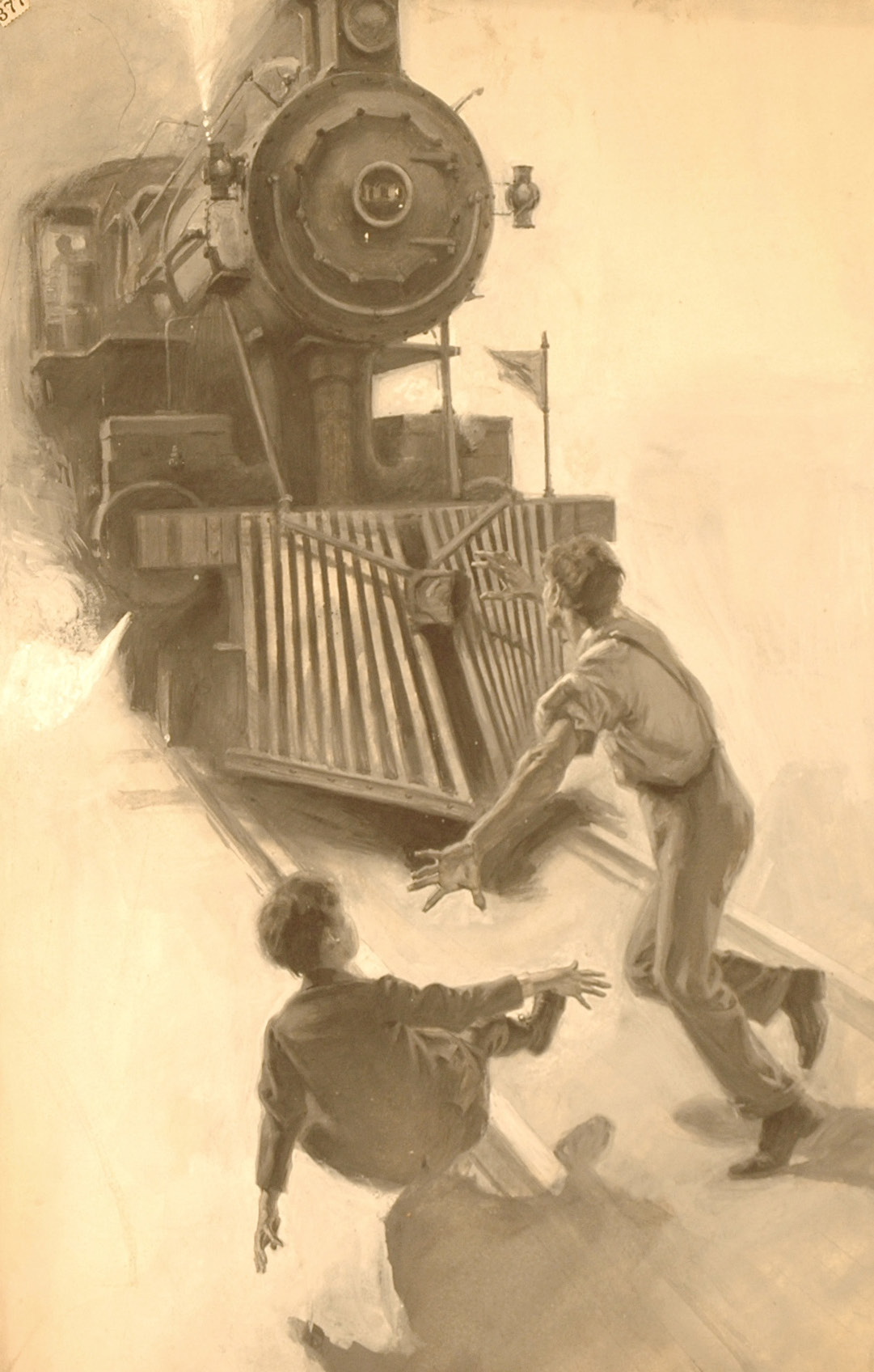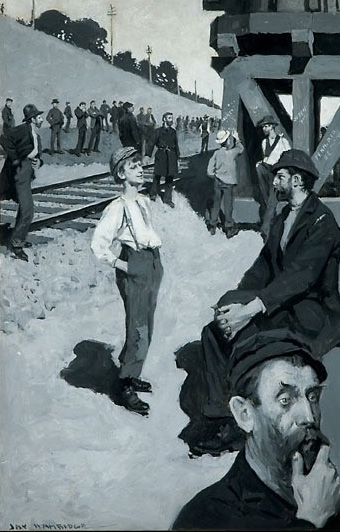 By the turn-of-the-century, Jay Hambidge was known for his illustrations focused on people working in the steel mills, coal fields, and along the train lines. This illustration was created for a Century Magazine article, "Heroes of the Railway Service," published in the March 1899 issue. It focuses on the rescue of a boy on the tracks of an oncoming train. By constructing this image as a diagonal composition, Hambidge compels us to feel the danger of the looming train rushing toward the two figures. Indeed, switchman Patrick McTamany lost his life rescuing the boy. (Norman Rockwell Museum)
Hambidge had a predilection for deep scenes. His use of perspective not only helps to give depth to the drawings but also highlights the feelings of the people placed in the foreground.
In a lot of works is it visible how the shadows are part of the storytelling: they help give movement (or stasis) to his compositions. The high quality results of his printed works, makes us think that it was incredibly aware of printing, engraving, and also photoengraving techniques.
Most of his traceable works are dated across the turn-of-the-century when he was still a young boy. This leads us to assume that he devoted the rest of his life mainly to the writing of his research.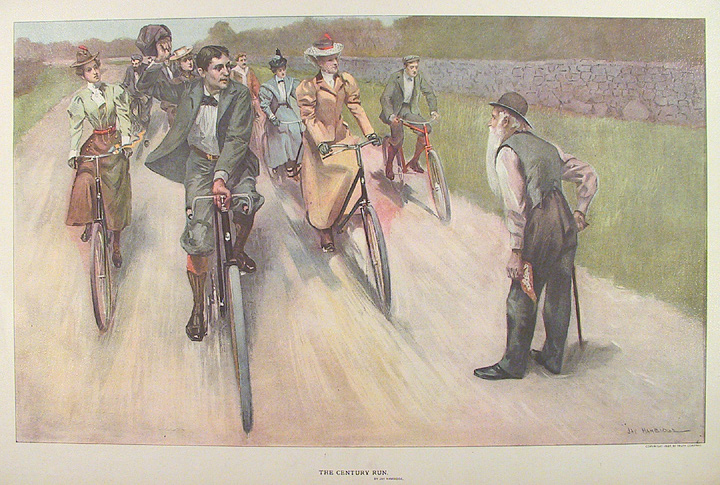 Work cited
Fine Art America. "A Draw – In The Bowery." Fine Art America. Web. 05/20/2014.
Hambidge Brewer, Mark (Great grandchildren of Jay Hambidge). 2017. E-mail. 01/19/2017.
Hambidge, Jay. "The elements of dynamic symmetry". New York, 1967. Dover Publications. (Print)
Harvard Art Museums. "Jay Hambidge." Harvard Art Museums. Web. 05/20/2014.
Invaluable. "Lot 62: JAY HAMBIDGE (1867-1924)." Invaluable. Web. 05/20/2014.
"Lot 1015: American Art Jay Hambidge (1867-1924)." —.
Lattimer Massacre Project. "Historic Newspaper Images." Lattimer Massacre Project. Web. 05/20/2014.
McWhinnie, H. J.. "Influences of the ideas of Jay Hambidge on art and design." Computers & Mathematics with Applications, Volume 17, Issues 4–6, 1989, Pages 1001–1008. Web. 05/20/2014.
Norman Rockwell Museum. "Illustration Network Database." Norman Rockwell Museum. Web. 05/20/2014.
Prints old and rare. "Philippines." Prints old and rare. Web. 05/20/2014.
Rotondo, M."The Golden Ratio: in harmony with the Universe." ART IMHO, The weird blog of Mirta Rotondo. Web. 05/20/2014. <mirtarotondo.com/blog>
"Introduction to the Golden Section: the never-ending mystery." —.
Smith, S. "Jay Hambidge: The Elements of Dynamic Symmetry." Twentieth Century Language and Vision Seminar. (Paper).
The Hambidge Center. "History." The Hambidge Center. Web. 05/20/2014.
The Old Print Gallery. "Print Round-Up: Bicycles." The Old Print Gallery. Web. 05/20/2014.
Mirta Rotondo. Professor Neil Shapiro. ILL310 OL2. Academy of Art University (San Francisco, CA).